Jeffrey Arban
Multimedia Facilities Specialist
Resident chameleon Jeff continues to adapt to the changing technologies essential to R-Comm's work.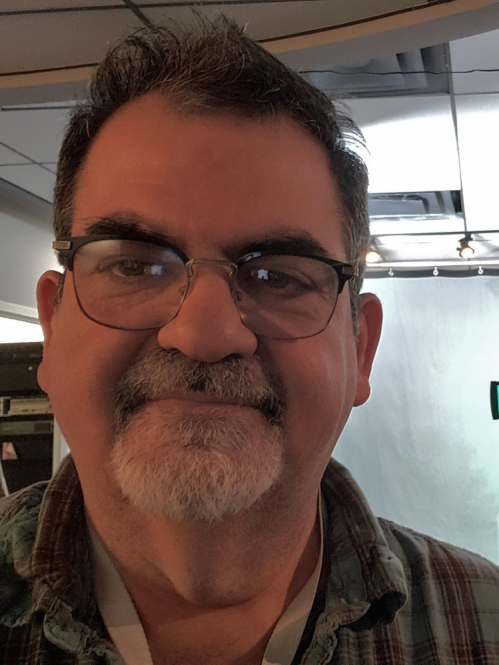 What I Do
My job has many responsibilities. I do video shoots, video editing, lighting, audio, for both remote and studio projects. I also do still photography and portrait photography for the university as a more recent addition to my assigned tasks. I setup for both still and video productions in the studios as needed. I edit the "On the Pandemic" podcast as well as the "Health Updates" by Chancellor Strom.
Greatest Strength
Ability to adapt to changing technologies
My Favorite Things
Movie: To Killl a Mockingbird
Book: Six Frigates by Ian W. Toll
Musician/Band: E.L.O.
Interesting Facts
I got to fly in the only flying (at the time) B-29 bomber in existence
I designed the NJ Nets NBA basketball team's 30th anniversary logo. It was used on all their logos for two years to include a banner that hung in the Meadowlands Arena for two years.
Hidden Talent
I make scale models of historic ships.
Greatest Accomplishment
Before R-Comm, I developed a team of student engineers that have gone on to very successful careers at NBC and other broadcast companies. I created a working relationship with the VP of engineering at NBC and he had told me the staff he hires from RU-tv Engineering is always a success. He said if I think they are ready, he will hire them if there is an open position. The former head engineer for Saturday Night Live (now a broadcast engineering manager at MLB) and the lead engineer for MSNBC primetime are both my former employees along with other former engineering staff at both NBC and MLB.
Superhero Power & Team Name
My super power would be: Invisibility
My super-team name would be: The Boom Town Funkadelics
Team Slogan & Mascot
My team slogan would be: "We got this"
My team mascot would be: A Horse because a horse can do anything if given the chance and direction.
What I Love Most
What I love most about my team: Diversity of talents and personalities
What I love most about R-Comm: Its talents and comradery
What I love most about working at Rutgers: The ability to be immersed in cutting edge research and the diversity.
My Quotes
If I were being profiled by Rutgers Today, my quote would be: "You don't get paid to do your job, you get paid so the people that rely on you don't have to worry about the job being done right."
If I were being profiled by The Onion, my quote would be: "Sure I think we all should be alert. The world needs more lerts."